Corsage London Film Premiere 2022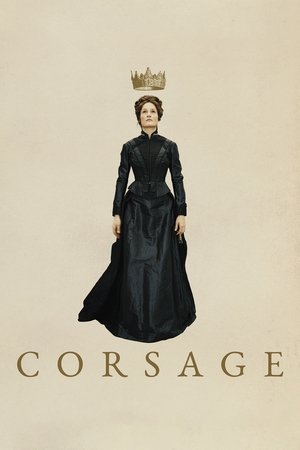 A fictional account of one year in the life of Empress Elisabeth of Austria. On Christmas Eve 1877, Elisabeth, once idolized for her beauty, turns 40 and is officially deemed an old woman; she starts trying to maintain her public image.
Corsage London Premieres Corsage
Status:

Not information yet

Date:Not information yet
Location: Not information yet
Release in Cinemas: 2022-07-07
Runtime:

113 minutes

directors:Marie Kreutzer
Planning to attend the film premiere? Find more information regarding tickets, wristbands the times usually the premieres are taking place at London Film Premieres
When asked how much of the film is real and how much is fiction, director and screenwriter Marie Kreutzer said she couldn't tell in percent because she couldn't even remember exactly, but that some parts were made up such as the ending. However, very little of the film is historically accurate.
This is one of five Austrian-German productions about Empress Elisabeth of Austria to be released between 2021-2022. The others were Sisi (2021), Elisabeth (2022), The Empress (2022), and Sisi & I (2023) (the latter was announced in 2019 and was also filmed in 2021, but its release date had to be postponed to 2023 due to Corsage being released in Austria and Germany in 2022). The Empress (2022) was a huge hit on Netflix, being watched by nearly 20 million homes globally and a total of over 100 million hours in the first weeks of its release, at the same time that Corsage was struggling to make $1 million at the box office worldwide against its $8 million budget despite a heavy promotion. Films, series and documentaries about Elisabeth of Austria are produced and released nearly every year by Austria and Germany since 1921, the first was Kaiserin Elisabeth von Österreich (1921).
Co-producer countries: Austria (58.62%), Luxembourg (21.34%), Germany (10.03%), France (10.01%). Source: UniFrance.
This film was partly funded by the Luxembourg Film Fund. The father of lead actress Vicky Krieps, Bob Krieps, was the president of the Luxembourg Film Fund and worked for the country's Ministry of Culture [when this film was being produced], which supervises the Luxembourg Film Fund and decides which films will be funded with taxpayers' money. Several of Krieps' films were funded by the Luxembourg Film Fund, even when they weren't filmed in the country.
Vicky Krieps (Elisabeth) and Manuel Rubey (Ludwig II, King of Bavaria) were both part of the controversial campaign #allesdichtmachen ("close everything down"), which featured 50 German-speaking actors making fun of Germany's protective measures against Covid-19. In her video, Krieps says, among other things, that acting helped her to deal with her fear of people. "During this time, we all learned how good it is to finally get away from it all. To alienate, not always having to let others get close to you. Above all, you don't know if the people you meet are washed", she said in the video. The campaign, released in April 2021 when Germany had more than 80,000 deaths related to Covid, was highly criticized by authorities, other actors and the population of Germany as being "tasteless", "insensitive" and "cringe-worthy", while receiving support from Covid-deniers and far-right extremists for aligning with their views on the pandemic and lockdown. While several actors such as Rubey requested for their videos to be removed and apologized to those they had hurt in any way, Krieps never apologized for participating in the campaign and her video is still available.
Empress Elisabeth is portrayed as a lonely and sad woman when in real life she had several extra-marital affairs and wasn't a proto-feminist as she was portrayed in this film. She was beauty-obsessed; jealous of younger and beautiful women; spent most of her life travelling all over the world without her family by her own choice; treated her husband badly although he loved her and never mistreated her according to historical records and the letters exchanged between them; had a cold and distant relationship with her children; asked her son to "man up" shortly before he killed himself and called her own daughter "a skeletal sow" in writing; only wanted good-looking women around her in the court; slapped her maids and liked to torture her older ladies-in-waiting. She also despised commoners despite being loved by them.
There is no record of Elisabeth ever meeting French artist Louis Le Prince, the inventor of an early motion-picture camera. Director Marie Kreutzer told Cineuropa that she just loved the idea that they could meet, and she created the connection when she realized that Elisabeth used to go to England to go riding.
This film's official Austrian poster (the one with a crown floating above Vicky Krieps' head) is very similar (in style, font and colors) to the official American and British poster of The Favourite (2018), released four years before. Both films are about royals. When the plagiarism was brought up on social media, the designer of Corsage's poster [Midnight Marauder] ignored it.
Vicky Krieps is only five years older than Aaron Friesz, who played her son in this film.
Filmed in 37 days between February and July 2021.
Several scenes intentionally include anachronistic items, like emergency exit signs, a motorized tractor, a plastic mop and bucket, a french press style coffeepot or anachronistic music, like the song "Help Me Make it Through the Night", which was released over 90 years after the film's events. Elisabeth's anchor tattoo might seem anachronistic but it is actually historically accurate. Those intentional anachronisms/chronological inconsistencies had been previously used in Sofia Coppola's Marie Antoinette (2006), also a film about an Austrian consort royal from the Habsburg family, who died 44 years before Elisabeth was born. Coppola was never credited for inspiring this film. On the contrary, director Marie Kreutzer said in interviews that she didn't want to make a "pop version" of the Empress like Coppola did in her film. Kreutzer also said in an interview for The Upcoming in June 2022 that she doesn't like Coppola's Marie Antoinette and doesn't want people to think of that film while watching 'Corsage'.
Corsage was heavily promoted by the film's director Marie Kreutzer and lead actress Vicky Krieps as "a feminist film", and they often talked about the #MeToo movement while promoting this film. On June 18, 2022, Austrian director Katharina Mückstein shared a story on her Instagram account that read: "Tonight a perpetrator will stand on the stage and will be applauded. And there is nothing we can do to counter that. It's devastating. I wish all those affected good nerves. #Metoo didn't even start in Austria". No name was given, but the only event of that kind happening in Austria that night was the premiere of 'Corsage' in Vienna, which led to speculation that Mückstein was talking about someone who worked in this film. Mückstein later said that she couldn't name the man for legal reasons and implied that he comes from a wealthy family that can pay for lawyers. Mückstein's Instagram story encouraged several women to share their own experiences with sexual harassment, sexism, racism, homophobia and abuses of power in the Austrian film and theatre community, which generated a lot of media attention, weeks of debates and sparked a new wave of the #MeToo Movement in Austria, and Corsage's director Marie Kreutzer was requested to talk about it. Kreutzer told Austrian magazine Profil on July 2, 2022 that she learned about the abuse rumors about one of the actors from Corsage "a long time ago", when the project was already underway, but as long as there are only rumors and no court-confirmed evidence, she will never remove or dismiss a staff member from the stage based on rumors, and if there are neither concrete allegations nor a procedure against someone, she would act as a judge if she reacted with consequences. "There are neither concrete allegations nor those affected who have contacted authorities to articulate something concrete there. That's what makes the case so problematic. Even though I've worked very well with him and I like him, I can't put my hand on the fire for him. I do not check the reputation of my performers or my team. What lies in their past I cannot and do not want to research completely. I can only urge that official contact points be included and that all this is not just carried out among colleagues and like-minded people. You have to take steps, not just talk about it behind closed doors." Kreutzer later admitted that "there were certainly reports about this man, but again they only came from people who were neither affected themselves nor had anything to testify directly." Kreutzer also criticized Mückstein for "passing on rumors"; "One should stick to the facts, because passing on rumors can seriously damage people; I appreciate Katharina Mückstein extremely for her attitude and her commitment to film politics, we are definitely on the same side. But I would definitely have chosen a different path", she said. Kreutzer calls herself a feminist and shares cases of sexual assault and harassment in Hollywood on a daily basis on her Instagram account, giving her own personal opinion such as how important it is to listen to and believe women when they share stories of abuse, even sharing cases that weren't taken to court and have no concrete evidence. However, she never shared stories of abuse in the Austrian film industry. Vicky Krieps never talked about the case, and rumors in the Austrian film community claim that she had an affair with the alleged abuser-actor and recommended him for 'Corsage' despite also knowing the abuse rumors about him.
The "For Your Consideration" kit sent out by IFC Films to awards voters included two bottles of Austrian Rosé Schlumberger Brut Classic; a box of "Sissi Veilchen" (an Austrian chocolate brand that uses the name and image of the real Empress Elisabeth), and a box of "Gerstner Sisi Torte", an Austrian chocolate cake whose package uses a photo of the real Empress Elisabeth. Director Marie Kreutzer and actress Vicky Krieps have both criticized all the products and merchandising that are sold in Austria with images of Empress Elisabeth before their film's marketing team did the same thing to promote Corsage to awards voters.
The film's title, "Corsage", is a French word that refers to the bodice of a dress. In the 19th century, "corsage" was a common term for a woman's bodice or jacket. In modern usage, corsage is often confused with a corset, but a corset is tighter and meant for waist reduction, while a corsage only hugs the figure and doesn't have a strong lacing effect like a real corset features. "Corset" would have been a more appropriate title for the movie since that's what Elisabeth used to reduce her waist, and not a corsage, which is not even featured in this film.
Director Marie Kreutzer said that actress Vicky Krieps became impatient with the women working on her costumes and with the women who were surrounding and touching her since the first costume fittings before filming started.
Official submission of Austria for the 'Best International Feature Film' category of the 95th Academy Awards in 2023.
When Vicky Krieps shared the Un Certain Regard award for Best Performance for this film with French-Tunisian actor Adam Bessa for Harka (2022) at the 2022 Cannes Film Festival, the Anglophone (and especially the American) media gave an uncommonly large amount of coverage and support for the actress while barely mentioning Bessa (and his film), who didn't get any headline with his name on it mentioning that he had won the same award as well, which only happened to Krieps that day and in the following months. Some news outlets even incorrectly reported that Krieps had won the Best Actress award at Cannes, which actually went to Zar Amir-Ebrahimi for Holy Spider (2022). The Un Certain Regard is a sidebar section from the Cannes Film Festival that doesn't even hand out actual trophies for its winners, unlike the awards for the main competition. The Best Performance award from Un Certain Regard is not even an official category, the jury has the option to award it or not to one or more actors regardless of gender. The winners from the Un Certain Regard section normally don't get much media coverage nor critics pushing an early Oscar campaign for them as Krieps received. Krieps' sidebar award tied with another actor received more media coverage and support from the Anglophone media than the official Best Actress and Best Actor winners from Cannes' main competition; Iranian actress Zar Amir-Ebrahimi and South Korean actor Song Kang-ho (for Broker (2022)), respectively, despite both of their films receiving critical acclaim.
Vicky Krieps arrived for this film's premiere at the Kinepolis Kirchberg in Luxembourg on September 2, 2022 in a horse-drawn carriage, which is rarely used since the 19th century and is often criticized for animal cruelty.
Despite saying in interviews during the film's promotion that unlike Elisabeth she is not a smoker, Vicky Krieps has been pictured smoking in real life before and after this film.
In the film, Elisabeth kills herself by jumping from a cruise ship into the ocean at 40 years old. In real life, she was assassinated at the age of 60 by 25-year-old Luigi Lucheni, an Italian anarchist who stabbed her in the chest with a sharpened needle file on September 10, 1898, while Elisabeth was walking to a ferry landing on Lake Geneva in Geneva, Switzerland with her long-time lady-in-waiting, Irma Sztáray (who is not portrayed in this film). Elisabeth didn't realize that she had been stabbed. Sztáray helped the Empress to get to the ship, yet when she released Elisabeth's arm, she lost her conscience. Sztáray asked for a doctor, but since there was none aboard, a nurse who was a passenger on the ship intervened. Elisabeth was taken aboard and laid on a bench. Sztáray opened her corset so as to make her breathe easily, yet she lost her conscience again. Only then did the passengers notice a small blood stain in the chest area on Elisabeth's clothes. Alarmed about the wound, Sztáray told the captain who the woman really was and he decided to turn the ship back to the port. Elisabeth was taken back to her hotel, but the doctors arrived too late and she died a short time later in the company of Sztáray. Lucheni wanted to kill the French Duke of Orleans, a pretender to the throne of France, but Elisabeth was in the wrong place at the wrong time when they crossed paths. Lucheni was arrested and was found hanged in his cell on October 19, 1910. His head was preserved in formaldehyde and transferred to Vienna in 1986, where it was on display in Vienna's Narrenturm museum until 2000 when the remains were interred at the Wiener Zentralfriedhof.
Where was Corsage filmed?
Corsage was set around this are the locations:
Vienna, Austria
Luxembourg
Schifflange, Luxembourg
Château de Laclaireau, Rue de la 7ème Divison Française, Ethe, Virton, Belgium
Schönbrunn Palace, Hiertzing, Vienna, Austria
Marie-Theresien-Platz, Burgring 5, Vienna, Austria
Eckartsau Castle, Eckartsau, Gänsendorf, Austria
Metz, Moselle, France
Port of Ancona, Italy
Fincantieri Shipyard, Lungomare Vitarelli, Ancona, Italy
Genre
Biography,Drama,History
Cast