Corsage London Film Premiere 2022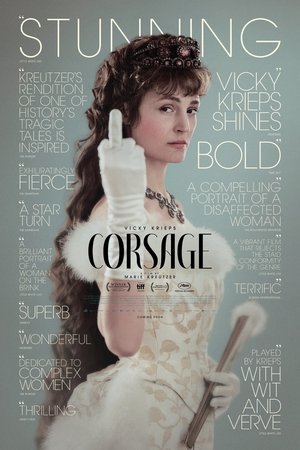 A fictional account of the later years of Empress Elisabeth of Austria. On Christmas Eve 1877, Elisabeth turns 40 and is officially deemed an old woman and starts trying to maintain her public image, once idolized for her beauty.
Corsage London Premieres null
Status:

Not information yet

Date:Not information yet
Location: Not information yet
Release in Cinemas: 2022-12-23
Runtime:

113 minutes
Planning to attend the film premiere? Find more information regarding tickets, wristbands the times usually the premieres are taking place at London Film Premieres
This is one of five Austrian-German productions about Empress Elisabeth of Austria to be released between 2021-2022. The others were Sisi (2021), Elisabeth (2022), The Empress (2022), and Sisi & I (2023) (the latter was announced in 2019 and was also filmed in 2021, but its release date had to be postponed to 2023 due to Corsage being released in Austria and Germany in 2022).
This film was partly funded by the Luxembourg Film Fund. The father of lead actress Vicky Krieps, Bob Krieps, was the president of the Luxembourg Film Fund and worked for the country's Ministry of Culture [when this film was being produced], which supervises the Luxembourg Film Fund and decides which films will be funded with taxpayers' money. Several of Krieps' films were funded by the Luxembourg Film Fund, even when they weren't filmed in the country.
Co-producer countries: Austria (58.62%), Luxembourg (21.34%), Germany (10.03%), France (10.01%). Source: UniFrance.
When asked how much of the film is real and how much is fiction, director and screenwriter Marie Kreutzer said she couldn't tell in percent because she couldn't even remember exactly, but that some parts were made up such as the ending.
Filmed in 37 days between February and July 2021.
This film's official Austrian poster (the one with a crown floating above Vicky Krieps' head) is very similar (in style, font and colors) to the official American and British poster of The Favourite (2018), released four years before. Both films are about royals. When the plagiarism was brought up on social media, the designer of Corsage's poster [Midnight Marauder] ignored it.
Despite saying in interviews during the film's promotion that unlike Elisabeth she is not a smoker, Vicky Krieps has been pictured smoking in real life before and after this film.
Vicky Krieps arrived for this film's premiere at the Kinepolis Kirchberg in Luxembourg on September 2, 2022 in a horse-drawn carriage, which is rarely used nowadays and often criticized for animal cruelty.
In real life, Elisabeth was assassinated at the age of 60 by Luigi Lucheni, an Italian anarchist, on September 10, 1898, in Geneva, Switzerland. In the film, she kills herself by jumping into a lake.
Where was Corsage filmed?
This are the locations:
Vienna, Austria
Luxembourg
Schifflange, Luxembourg
Château de Laclaireau, Rue de la 7ème Divison Française, Ethe, Virton, Belgium
Genre
Biography,Drama,History
Cast