Queen & Slim london Premiere
Slim and Queen's first date takes an unexpected turn when a policeman pulls them over for a minor traffic violation. When the situation escalates, Slim takes the officer's gun and shoots him in self-defence. Now labelled cop killers in the media, Slim and Queen feel that they have no choice but to go on the run and evade the law. When a video of the incident goes viral, the unwitting outlaws soon become a symbol of trauma, terror, grief and pain for people all across the country
A couple's first date takes an unexpected turn when a police officer pulls them over.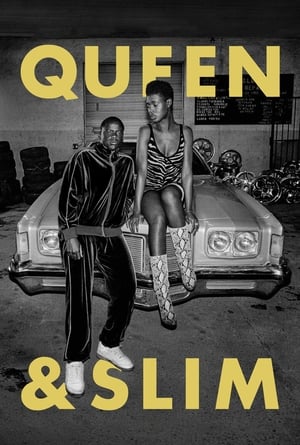 Date: 28th January 2020
Location: Rich Mix Cinema
Status:

Confirmed

directors:Melina Matsoukas
Queen & Slim london Premiere Trailer
Did you know ... ?
According to the writer, the divergent world views of the two protagonists were based on the differences between Martin Luther King, Jr. and Malcolm X.
The two main characters are never referred to as "Queen" or "Slim". In fact, including their interactions with each other and other characters, the only times they are referred to by name are in news reports covering the manhunt for them. The news reports only use their given names (Ernest Hines, and Angela Johnson).
First feature film to be directed by Melina Matsoukas, who has previously only directed music videos and TV episodes.
One of the most popular films of 2019 to not a get a single nomination at the 2020 Academy Awards.
The man driving Queen & Slim to meet the plane is listening to "Thru it All" Remix by Wintertime which is a song about someone having their back against the wall. Could be a hint at the fact that the man actually turned Queen & Slim in for the reward money in the end.
"Doomed" by Moses Sumney plays over the funeral scene at the end.
Ernest and Angela end up using five different vehicles to reach their destination: Ernest's white sedan, the Kentucky sheriff's Ford F-350 pickup truck, Uncle Earl's vintage aqua muscle car, an aged tan Mercedes station wagon, and the car of the friend of Mr. Shepherd. Their intended sixth vehicle - the plane - never gets to be used. The fates of each vehicle are: 1. Ernest's car: Abandoned in Kentucky. 2. Sheriff's pickup: Torched in New Orleans. 3. Uncle Earl's car: Towed from the Shepherd residence. 4. Mercedes station wagon: Abandoned somewhere around Miami. 5. It can be assumed that the "friend" of Mr. Shepherd retained his car.
Cast