The Railway Children Return London Film Premiere 2022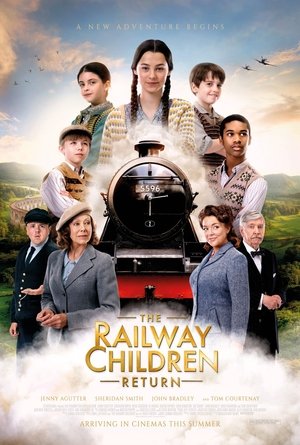 Follow a group of children who are evacuated to a Yorkshire village during the Second World War, where they encounter a young soldier who, like them, is far away from home.
The Railway Children Return London Premieres LONDON GALA SCREENING
Status:

Confirmed

Date:July 10, 2022
Location: Picturehouse Central, London
Attended by:

Jenny Agutter, Sheridan Smith, Tom Courtenay, John Bradley, Beau Gadsdon, Kj Aikens, Austin Haynes, Eden Hamilton, Zac Cudby. Director Morgan Matthews, Producer Jemma Rodgers, Writer Danny Brocklehurst

Release in Cinemas: 2022
Runtime:

95 minutes
Planning to attend the film premiere? Find more information regarding tickets, wristbands the times usually the premieres are taking place at London Film Premieres
The Railway Children Return Trailer
Jenny Agutter played Roberta (nicknamed Bobbie) in both the mini-series The Railway Children (1968) and the film The Railway Children (1970). Additionally, she played the role of the mother in the TV-movie The Railway Children (2000).
Utilises the same Yorkshire locations as the 1970 film this story follows.
Agutter playing Roberta for third time over 54 years breaks the world record for playing the same character over the longest period of time in a movie. Also the 52-year gap between her second and third time is a record for reprising a role. Both times succeeding Nick Castle.
Edith Nesbit died in 1924 so the story for this film was not written by her.
Where was The Railway Children Return filmed?
This are the locations:
Oakworth Railway Station, Station Road, Oakworth, Keighley, Bradford, West Yorkshire, England, UK
Keighley & Worth Valley Railway, Haworth, Keighley, Bradford, West Yorkshire, England, UK
Brontë Parsonage Museum, Church Street, Haworth, Keighley, Bradford, West Yorkshire, England, UK
Cast