London film premieres Leicester Square Red carpet Event 2023
If you're looking for information about upcoming film premieres in London, you've come to the right place! London is one of the biggest film capitals in the world, and there's always a lot of excitement surrounding the latest movie releases and premieres.
When it comes to the location of London film premieres, they're typically held in and around Leicester Square, which is located in the heart of London's West End. This area is known for its glitz and glamour, and it's the perfect backdrop for the red carpet premieres that take place there.
As for when these premieres take place, it really depends on the film and the production company behind it. Some premieres may be held months before a film's general release, while others may take place on the same day as the film's release.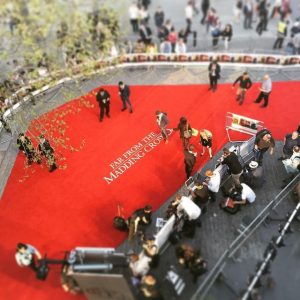 London is a great place to catch a film premiere, and Leicester Square is the place to be for all the action. Keep an eye on london film premieres stay informed about upcoming premieres
Upcoming London Film Premieres 2023
Check out below the list of the next upcoming premieres in london. Whether you're a fan of action-packed blockbusters or heartwarming dramas, this calendar has got you covered. From the latest releases to highly anticipated films, never miss a red carpet event from our Film Calendar.
Recent london film premieres
Please find below the list of recent london festivals and red carpet events.
Upcoming films
upcoming movies for 2023, it hasn't confirmed yet about the premiere dates
---
Inviting Guests and Celebrities
The guest list for a film premiere can make or break an event. Inviting A-list actors and actresses can generate buzz and media attention for both the movie and event itself. Inviting influential directors and producers can also raise interest in future works from their production company.
In addition to celebrities directly involved with the movie, organisers may invite other notable figures from within their industry or even outside it – politicians, fashion designers or even social media influencers – in hopes of generating publicity by association. The invitations themselves could come through PR agencies or management companies representing individuals on your desired list; these entities may dictate terms like number of guests allowed per celeb/client.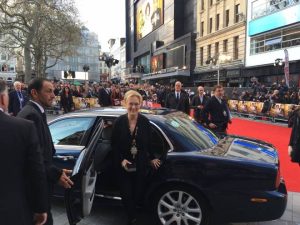 Preparing for The Red Carpet
The red carpet is where all eyes will be focused during a film premiere. This is where guests arrive dressed up to attract as much attention and generate media coverage. It's important that the red carpet area is well-designed and decorated to create an impressive background for photographs. Organisers  may hire a company to set up the red carpet, backdrops, lighting and other decor elements.
Security is also of utmost importance during this part of the event. Often there are crowds of fans waiting outside along with photographers or journalists looking for an opportunity to speak with guests or snap candid shots; this can create chaos at times, so it's important to have a clear plan in place to avoid any safety hazards or negative press coverage.
Another element to consider when preparing for the red carpet is catering- guests may want refreshments before going in to watch the movie, so having a drinks reception or food available at these events is common. And if you're really trying to impress those on your guest list, a swag bag could be included as well – filled with mementos like branded popcorn bags or merchandise from sponsors – adding another layer of grandeur and glamour!
The Experience of Attending a London Film Premiere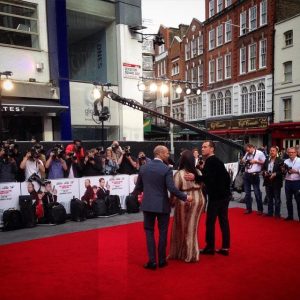 The Excitement and Anticipation Leading up to the Event
Attending a London film premiere is an experience like no other. The excitement and anticipation leading up to the event are palpable. Months before the premiere, movie fans eagerly await announcements of which films will be premiering in London and when.
As the date approaches, ticket holders buzz with anticipation, scouring social media for news about who will be attending and what they might wear. For those lucky enough to attend a London film premiere, the experience begins outside the venue.
Crowds of fans line the streets hoping for a glimpse of their favorite stars as they make their grand entrance on the red carpet. The energy is electric as paparazzi flash bulbs pop and security guards attempt to keep fans at bay.
The Red Carpet Experience
The red carpet is where all eyes are focused during a London film premiere. It's where celebrities make their grand entrance into the venue, dressed in stunning designer gowns or sleek suits. Fashion and style trends at premieres are closely followed by both media outlets and fans alike.
But it's not just about what celebrities wear on the red carpet – it's also about who they interact with. Fans scream as their favorite stars stop for selfies or autographs, while media outlets jostle for position to get that perfect shot or interview.
Of course, with all this attention comes plenty of paparazzi and media attention too. Security guards work tirelessly to keep everyone safe while also managing crowds of excited fans trying to catch a glimpse of their favorite celebrities.
Screening The Movie
Once inside the venue, attendees settle in for what they came for – watching the movie itself! Watching a movie at a London film premiere is different from watching it at your local cinema; there's a buzz of excitement in the air, and everyone is eager to see the film for the first time.
Of course, there are also some unique aspects to watching a movie at a premiere. You might be sitting next to a celebrity or filmmaker who had a hand in creating the movie you're about to watch.
And if you're lucky, you might even get to hear from them during Q&A sessions after the screening. Overall, attending a London film premiere is an unforgettable experience that combines excitement, glamour, and entertainment all into one.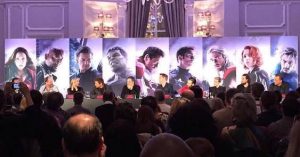 Behind-the-Scenes: Rarely Known Details about London Film Premieres
A) Security Measures Taken to Ensure Safety at Events
Film premieres attract a lot of attention, especially from paparazzi and fans. This exposure makes it vital to provide effective security for the safety of everyone involved. Security at London's film premieres is a top priority, and all necessary precautions are taken to guarantee the protection of guests and attendees.
Security personnel oversee the event, with some events requiring hundreds of guards in place. High-tech tools such as CCTV cameras, metal detectors, and sniffer dogs are used to ensure that guests remain safe throughout the evening.
The security team also monitors social media channels to ensure that any potential threats can be quickly addressed. During high-profile events like film premieres in London, security measures are taken up several notches.
With terrorist threats becoming more frequent across Europe, organizers take extra steps to enhance security. For example, the 2017 premiere of Star Wars: The Last Jedi saw road closures put in place around Leicester Square hours before the event began.
B) How Much It Costs to Organize a Premiere in London
Organizing a film premiere comes with significant costs that vary depending on different factors such as venue size, celebrity attendance fees, catering arrangements, and production expenses. In fact, some reports suggest that hosting an A-list film premiere can cost between £100k ($130k) – £1m ($1.3m). The costliest part of organizing a film premiere is often securing an appropriate location for the event – most high-end venues come with exorbitant rates due to their exclusivity and popularity among celebrities.
Another key expense factor is hiring entertainment professionals such as DJs or bands who create an atmosphere at the event. Additional costs include catering services which often include expensive champagne brands favored by celebrities.
The cost of the red carpet is also a major expense, and some designers charge up to £20k ($26k) to create an exclusive look that will be worn by the movie's stars.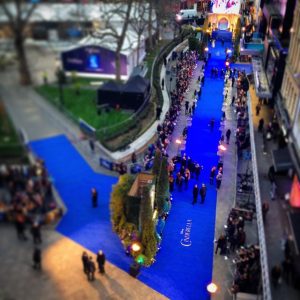 C) How Films are Selected for PremieresLondon's film premieres are attended by many high-profile individuals, and as a result, selection criteria for these events are strict.
In most cases, the distributors of the film make the decision on whether to hold a premiere and where it should occur. Typically, films that have received rave reviews at other festivals or critical acclaim are chosen for premieres in London.
Studio executives use premieres as an opportunity to show off their latest work to industry peers and gain publicity for their film's release. It's not uncommon for filmmakers or actors who have a connection with London or their fans in the UK to request that their films are premiered in this city.
Organizing a successful premiere takes a lot of effort, money, and planning. Nevertheless, when executed correctly – as is often done in London – it can become one of the most glamorous events on the social calendar.
More Festivals & Awards around the world
Golden Globes Awards
Sundance Film Festival
London Film Critics Circle Awards
Santa Barbara Film Festival
Berlin Film Festival
BFI Future Film Festival
BAFTA Awards
Dublin International Film Festival
Glasgow Film Festival
The Oscars
BFI Flare
Scotland International Festival Of Cinema
Cannes Film Festival
Tribeca Film Festival
Sydney Film Festival
San Francisco Silent Film Festival
Arrow Video Frightfest
Venice Film Festival
Toronto International Film Festival
San Sebastian International Film Festival
Zurich Film Festival
Evolution Mallorca International Film Festival
---
Who can go to movie premieres?
Everyone can attempt a london premiere
Can people in wheelchairs attend the premiere?
Absolutely, there is a exclusive section usually near  where get to know the actors and is the best place that you can be
How do you get invited to a movie premiere?
You don't actually need to get invited, you can attend the premiere you just need to be there early
If none of the actors are part of your family sadly you need to enter some contest and be lucky enough to win
Some prizes / tickets  giving by companies holding the movie,example there is a new marvel movie coming up, follow marvel on the social medias  twitter, instagram etc,there are also magazines in the showbiz who also do some contest
Do I need tickets ?
Usually you don't need tickets to attend the premiere, you just need to be there early, those who arrive early are move into a place where they get to see the movie for free just after the premiere finish
There are also contest and giveaways that you can apply on the social media just follow the movie profile that you are attending
Where do I get the wristbands ?
Not all the events The wristbands are giving in the same day of the premiere, the wristband comes in different colours which set in which part on the premiere you'll be and the colours are base of the time that you get wristband,  I recommend you to be early morning they will be working to set the all scenario base on the premiere, depending on the time that they finish working with the whole scenario they let people in
What time do movie premieres start?
Usually the Premieres are taking place a this time Monday-Friday:
4:45pm Press pens open
5:30pm Press pens close
5:45pm Photographers draw
6:30pm Talent arrivals
7:00pm Doors open
7:30pm Film on screen
Note premieres at the weekend may start 10am and some of the could not attend the red carpet.
Before attend a london film premiere
Stay near the entrance of the cinema as often all the stars stop to meet their fans
Try to be early that would help you to stay in fron to the cinema
Often you can get to meet the actors and actresses in the film besides invited celebrities as they come out, so don't panic if you miss them as they go in.
Lot of people came from abroad to attend the premiere…remember to bring an umbrella
Going with a friend can help you to secure a spot if you need to pop to the toilet
Thes Tips are great for Film Fans for the film premieres london , Autograph Collectors, photographers and anyone attending the film premiere.
Where are movie premieres held in London?
O2 ARENA
BFI Southbank
Vue Leicester Square
Regent Street Cinema
Odeon Leicester Square
Washington Hotel, 5 Curzon St. Mayfair
BAFTA
Cineworld at The Empire Theatre
London has been a hub for film premieres for over a century, and it continues to be an important destination for filmmakers and movie stars. With its vast array of beautiful venues and historic landmarks, London offers the perfect backdrop for these events. The city's rich history in cinema and its reputation as a global cultural center make it an ideal location for film premieres.
From the earliest days of cinema to modern blockbusters, London has played host to some of the most significant moments in cinematic history. Whether it is a small independent film or a Hollywood blockbuster, London provides a platform for filmmakers to showcase their work to audiences from all over the world.
Moreover, London's thriving arts scene ensures that there is always something exciting happening in the world of cinema. Film festivals like BFI London Film Festival and Raindance Film Festival provide opportunities for new filmmakers to premiere their work.
Additionally, many cinemas across the city regularly screen independent films and offer Q&A sessions with directors or actors. London remains one of the most important destinations for film premieres worldwide due to its rich history in cinema, cultural significance, beautiful venues available and opportunities provided by local events and festivals.
Filmmakers continue to choose this city as their launching pad into international markets due to its strong tradition in both art house films as well as large commercial productions. As long as this trend continues we can expect new stories from around the world being showcased in London's fantastic theaters every year!