Ferrari London film premiere 2023
Set during the summer of 1957. Ex-racecar driver, Ferrari, is in crisis. Bankruptcy stalks the company he and his wife, Laura, built from nothing ten years earlier. Their tempestuous marriage struggles with the mourning for one son and the acknowledgement of another. He decides to counter his losses by rolling the dice on one race - 1,000 miles across Italy, the iconic Mille Miglia.
Ferrari London Premieres Premiere
Status:

Confirmed

Date:December 4, 2023
Location: Odeon Luxe, Leicester Square, London
Attended by:

Michael Mann (Director) Adam Driver, Penélope Cruz, Shailene Woodley, Jack O'connell, Patrick Dempsey

Release in Cinemas: 2023-12-25
Runtime:

130 minutes

directors:Michael Mann
Planning to attend the film premiere? Find more information regarding tickets, wristbands the times usually the premieres are taking place at London Film Premieres
If you're someone who loves to personalize your devices with stunning visuals, you simply cannot miss out on the best wallpapers available. Check out Our collection of 4K and HD wallpapers in full colour and high definition Click on the Image below to explore our extensive collection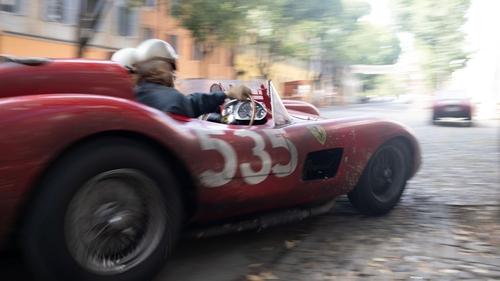 Christian Bale was cast in the lead role in late 2015, prompting a reunion with director Michael Mann after Public Enemies (2009) but dropped out due to health concerns as Bale considered that he didn't have enough time to gain the necessary weight for the role. Hugh Jackman was the first actor to replace Bale, until Adam Driver took over the role in January 2022.
This has been a passion project for director Michael Mann, who has been trying to get the film made for more than 20 years. An article from 1993 reveals that Mann was developing this biopic with Robert De Niro attached to star, as his follow-up to The Last of the Mohicans (1992).
At one point, Sydney Pollack was attached to team up with Michael Mann to produce the film.
In the show Entourage, Vincent Chase stars in a movie called Ferrari, fictitiously directed by Frank Darabont. Since the cancellation of Entourage, four of Vincent's movies have become reality. Escobar: Paradise Lost (Medillin on the show) The Great Gatsby, the above mentioned Ferrari, and Aquaman. Even more coincidental is the fact that Escobar: Paradise Lost was a financial failure, much like Medillin.
Patrick Dempsey is an avid car racer, having competed in many competions including Daytona.
For insurance reasons, Adam Driver wasn't permitted to drive any of the original classic race cars that feature in the biopic. Co-star Patrick Dempsey did, however, take the wheel of replicas of the open-topped cars, which offered no protection to the exposed drivers.
Christian Bale was originally set to play Enzo Ferrari but dropped out along with Noomi Rapace.
STX Entertainment acquired the movie from Paramount Pictures.
In an interview with Life magazine on April 9 1956, Alfonso de Portago stated that 'I will not die of an accident. I will die of old age or be executed in a gross miscarriage of justice'. Sadly, this prediction was to prove incorrect as he perished in a crash towards the end of the 1957 Mille Miglia, a crash caused by a tire blowout which also cost the lives of 9 spectators.
The final kiss between Alfonso di Portago and Linda Christian was captured on film by a photographer who remains anonymous. It was dubbed 'Il bacio della morte' or the kiss of death by the Italian press. Linda later claimed that the strange look on her face was due to a premonition - 'I had a strange sensation with that kiss. It was cold, and it caused me to look for the first time at Nelson seated behind him. He seemed like a mummy, gray, ashen, as if mesmerised. He had the eyes of someone who had suffered an enormous shock'.
Filming was originally scheduled to begin in the summer of 2016.
The Writers Guild of America credited Michael Mann and David Rayfiel with "Additional Literary Material" for their writing services on the screenplay, which did not include an on-screen credit for their touch-ups.
Sarah Gadon and Shailene Woodley previously worked on The Amazing Spider-Man 2 (2014), even though Woodley's scenes were cut from the completed film.
NEON acquired distribution rights for the film less than 2 months before its world premiere at the Venice Film Festival.
Had its North American premiere at the 61st New York Film Festival, where it was also the closing night film.
In order to play Piero Taruffi, Patrick Dempsey bleached his hair to get Piero's look.
Michael Mann's first film in eight years.
Michael Mann directed Penélope Cruz's husband Javier Bardem in Collateral (2004).
Genre
Biography,Drama,History
Cast