Five Nights at Freddys London film premiere 2023
Mike Schmidt, a night guard at a local diner, becomes troubled after confronting the truth about the animatronic costumes that reside: they aren't just robots. They are alive. Will he be able to survive all five nights at this haunted diner? Or is something more sinister at play?
Five Nights at Freddys London Premieres null
Status:

Not information yet

Date: Not information yet
Location: Not information yet
Release in Cinemas: 2023-10-27
Runtime:

110 minutes

directors: Emma Tammi
Planning to attend the film premiere? Find more information regarding tickets, wristbands the times usually the premieres are taking place at London Film Premieres
If you're someone who loves to personalize your devices with stunning visuals, you simply cannot miss out on the best wallpapers available. Check out Our collection of 4K and HD wallpapers in full colour and high definition Click on the Image below to explore our extensive collection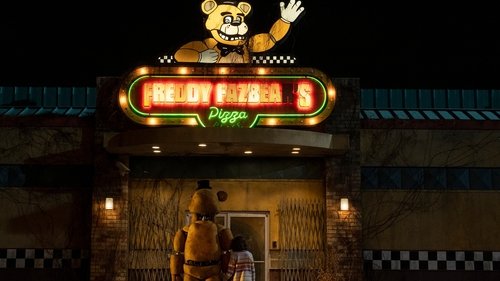 Watch Five Nights at Freddys Trailer
Unlike most studios using CGI for bringing creatures to life, Jim Henson's creature shop will be responsible for the creation of the Fazbear animatronics.
This film will be Blumhouse Productions' first ever video game film.
In an interview with Jason Blum, it was revealed that the film is Blumhouse Productions' top priority.
On November 20, 2020, Scott Cawthon made a post on the official Five Nights at Freddy's subreddit, where he revealed that multiple screenplays were considered, as well as explaining why those screenplays were rejected.
When the trailer was released for Willy's Wonderland starring Nicholas Cage, media sites and several fans of the Five Nights At Freddy's game pointed out how the plot for Willy's is the exact same as Freddy's: people are attacked by possessed animatronic characters at a Chuck E. Cheese type restaurant.
The 2019 science-fiction comedy-horror film The Banana Splits Movie, based on the Hanna-Barbera TV show, is speculated to be a reworking of the original Five Nights at Freddy's film Warner Bros. was supposed to work on before the rights went to Blumhouse Productions.
The animatronic characters were performed for the entirety of the film by Puppeteers from The Jim Henson Company. For shots where the characters weren't moving in space, the Puppeteers would control both the head and body movements. In the rare instances where a character would walk or dance, a stunt performer would don the costume, while the Puppeteers controlled the heads remotely.
Although there was a Golden Freddy stunt suit built, the costume was never used during filming. For all of his shots he was an animatronic puppet performed by Puppeteers from The Jim Henson Company.
Because of Foxy's skeletal like structure he was built as a full-body animatronic puppet and performed by Russ Walko along with a group of puppeteers from The Jim Henson Company. In shots where Foxy walked it took as many as 6 puppeteers to accomplish his full range of movements.
The film will be released on October 27, 2023 both theatrically and on Peacock.
The third film distributed by Universal that is a video game adaptation. The first being Ratchet & Clank by Rainmaker and the second being The Super Mario Bros Movie by Illumination.
Before this movie's release, Jason Blum said it already made back its budget from selling the streaming and theatrical distribution rights.
The song featured in the FNaF movie's teaser Trailer is "Talking In Your Sleep" by The Romantics. The song was originally released in 1983
Puppet Captain, Artie Esposito, was the puppeteer behind Freddy Fazbear and Golden Freddy. He's also known for performing another famous bear, as he was the puppeteer responsible for Baloo's movements in Disney's 2016 "The Jungle Book".
Hutcherson's interest in acting developed as a child despite his parents' concerns about the profession. According to the actor himself, he had "loved the entertainment industry" from the age of four. His father said that his son was compelled to perform for people from a very young age, possessing a personality that attracted people's attention. His mother said that he "bugged us so much" into becoming an actor, but believed it was a phase he was going through and would grow out of. At age eight, Hutcherson went through the yellow pages and contacted an acting agency. In January 2002, he and his mother met acting coach Bob Luke, who traveled from New York City to Kentucky to meet them. Luke advised them to go to Los Angeles and begin auditioning Hutcherson for TV pilots. At the time, his only acting experience had been in a Kroger television commercial and a Vacation Bible School training film. For three years, Hutcherson and his mother lived in Los Angeles' Oakwood apartments, a housing community that accommodates young child actors and their families. Josh Hutcherson's rise to fame proves that someone who is dedicated and has his parents behind him can find a way to become a successful actor.
Cast