Insidious The Red Door London film premiere 2023
Ten years ago, Josh and Dalton Lambert are hypnotized to forget their astral voyage to the Further. On the present days, Josh has divorced Renai Lambert and is estranged from his son. During the funeral of his mother Lorraine Lambert, Renai suggests Josh to drive Dalton to the university to reconnect with him during the journey. However, when they arrive at the dormitory, they have an argument and Josh returns home. Dalton is an Arts student and his Professor Armagan asks her students to go deeper in their inner fears and Dalton discovers a red door. Soon he is haunted by demons from the Further.
Insidious The Red Door London Premieres null
Status:

Not information yet

Date: Not information yet
Location: Not information yet
Release in Cinemas: 2023-07-07
Runtime:

107 minutes

directors: Patrick Wilson
Planning to attend the film premiere? Find more information regarding tickets, wristbands the times usually the premieres are taking place at London Film Premieres
If you're someone who loves to personalize your devices with stunning visuals, you simply cannot miss out on the best wallpapers available. Check out Our collection of 4K and HD wallpapers in full colour and high definition Click on the Image below to explore our extensive collection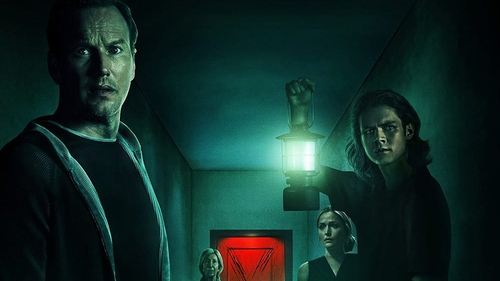 Watch Insidious The Red Door Trailer
Patrick Wilson's directorial debut.
The song featured in the end credits is "Stay" performed by Ghost featuring Patrick Wilson. It is a cover song originally from the band Shakespear's Sister.
The college featured in the film is named after Jane Pierce who was one of the former First Ladies (1853 to 1857) during Franklin Pierce's term. She was an occultist who would hold seances in the White House to communicate with her dead son.
Dagmara Dominczyk, who has a role in the film, is married to the film's star and director Patrick Wilson.
In each scene, rather than each frame, there is something red. The use of a red 'thing' is subtle and purposeful.
Return of Andrew Astor as Foster Lambert after Insidious: Chapter 2 (2013). In addition, this is the first movie for him after that. His only appearance in-between was in the short Infiltration (2019).
The movie marks the return of Lambert family since Insidious: Chapter 2 (2013), after that Insidious: Chapter 3 (2015) and Insidious: The Last Key (2018) are prequels set before Insidious (2010).
In the Dalton's art class Prof. Armagan talks about a canvas she shows to the students, "Saturn Devouring His Son". It was created sometime between 1820-1823 by Spanish painter Francisco de Goya. In the canvas, Roman god Saturn (equivalent to Titan Chronos in the Greek mythology) is literally devouring his son, Jupiter (Zeus). It reflects not only Dalton's state of mind, believing that in the events of Insidious: Chapter 2 (2013) Josh tried to kill him, but Josh's state of mind trying not to be as his father. Sons devoured by their fathers.
The first Insidious installment not to be written by creator Leigh Whannell. Screenwriting duties were passed down to Scott Teems, who previously co-wrote Halloween Kills (2021) and Firestarter (2022) for Blumhouse.
Lin Shaye, Leigh Whannell and Angus Sampson have appeared in all Insidious movies.
The trailer says "10 years later". The movie says "9 years later".
The movie marks the return of Joseph Bishara as the main villain Lipstick Demon. In the previous Insidious: Chapter 3 (2015) and Insidious: The Last Key (2018) he only did cameos (he was absent in Insidious: Chapter 2 (2013) but was hinted in the ending scene).
Juliana Davies plays Kali Lambert. In Insidious (2010) and Insidious: Chapter 2 (2013) she was played by the then-baby twins Brynn Bowie and Madison Bowie. They appeared also in Insidious: The Last Key (2018) but via archive footage.
This is the first Insidious film, since the original, to be shot in a taller 1.85:1 aspect ratio, unlike the last three installments which were shot in the widescreen 2.39:1 ratio.
Tom Fitzpatrick: as Parker Crane/Bride in Black.
Angus Sampson: Tucker in an Internet Ad about Astral Projection watched by Dalton and Chris.
Lin Shaye: as Elise Rainier.
In 2015, there was an Insidious-themed maze at Universal Studios, Orlando for the annual event of Halloween Horror Nights. The maze was based on the three "Insidious" films released at the time.
Genre
Horror,Mystery,Thriller
Cast