Jules London film premiere 2023
Jules follows Milton (Kingsley) who lives a quiet life of routine in a small western Pennsylvania town, but finds his day upended when a UFO and its extra-terrestrial passenger crash land in his backyard. Before long, Milton develops a close relationship with the extra-terrestrial he calls "Jules." Things become complicated when two neighbors (Harris and Curtin) discover Jules and the government quickly closes in. What follows is a funny, wildly inventive ride as the three neighbors find meaning and connection later in life - thanks to this unlikely stranger.
Jules London Premieres null
Status:

Not information yet

Date: Not information yet
Location: Not information yet
Release in Cinemas: 2023-08-11
Runtime:

87 minutes

directors: Marc Turtletaub
Planning to attend the film premiere? Find more information regarding tickets, wristbands the times usually the premieres are taking place at London Film Premieres
If you're someone who loves to personalize your devices with stunning visuals, you simply cannot miss out on the best wallpapers available. Check out Our collection of 4K and HD wallpapers in full colour and high definition Click on the Image below to explore our extensive collection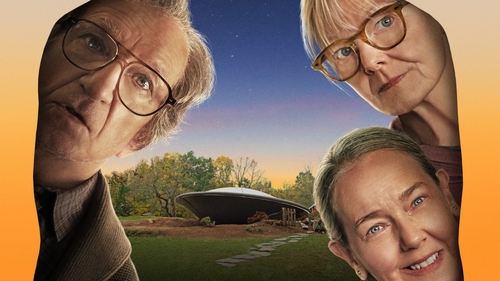 Milton, played by Ben Kingsley, repeatedly proposes the Boonton town council change the town's motto "A great place to call home" because it's confusing, and sounds like a place to call on the telephone. This is a subtle reference to ET the Extra-Terrestrial whose most famous line is "ET phone home!" Like ET, Jules is stranded on earth and working on a solution to return home.
Director Marc Turtletaub explains "The alien is a catalyst. It's like a creature that has no voice that allows other people to find their voice and when they can find their voice, they can find connection" Turtletaub hopes audiences learn from the movie that "Mostly, how important it is to be a great listener"
Jade Quon, who plays the lead character Jules, previously played an alien in Men in Black II. She was one of the small creatures in Locker C18 in the train station.
Transforming actress Jade Quon into the alien took the make up team four hours and none of the prosthetics were reusable, new ones were constantly being remade. The original plan was for Quon to get into makeup 12-15 times max but it ended up being 30.
Jade Quon who plays the lead character Jules has a career spanning more than two decades performing in film, with the majority of her appearances in stunt roles.
The setting for Jules is a fictional town in Western Pennsylvania called Boonton, and was filmed in Boonton New Jersey, a real town with the same name but in a different state.
No CGI was used to create the alien. The prosthetic makeup department head, Joshua Turi, and his team created a full-body creature made up of 11 individual prosthetics attached to actress Jade Quon's body. The design was conceived by Director Marc Turtletaub and writer Gavin Steckler with a look intended to be "genderless, angelic, and friendly"
Jane Curtain, who plays Joyce, portrayed alien Prymaat Conehead,a popular recurring character on Saturday Night Live from 1977-1979, which was spun-off into an animated Coneheads pilot in 1983 and a live-action film in 1993. She later spent 6 seasons portraying the girlfriend of an alien on 3rd Rock from the Sun (1996).
Genre
Comedy,Drama,Sci-Fi
Cast