M3GAN London film premiere 2023
When Gemma suddenly becomes the caretaker of her orphaned 8-year-old niece, Cady, Gemma's unsure and unprepared to be a parent. Under intense pressure at work, Gemma decides to pair her M3GAN prototype with Cady in an attempt to resolve both problems-a decision that will have unimaginable consequences.
M3GAN London Premieres null
Status:

Not information yet

Date: Not information yet
Location: Not information yet
Release in Cinemas: 2023-01-06
Runtime:

102 minutes

directors: Gerard Johnstone
Planning to attend the film premiere? Find more information regarding tickets, wristbands the times usually the premieres are taking place at London Film Premieres
If you're someone who loves to personalize your devices with stunning visuals, you simply cannot miss out on the best wallpapers available. Check out Our collection of 4K and HD wallpapers in full colour and high definition Click on the Image below to explore our extensive collection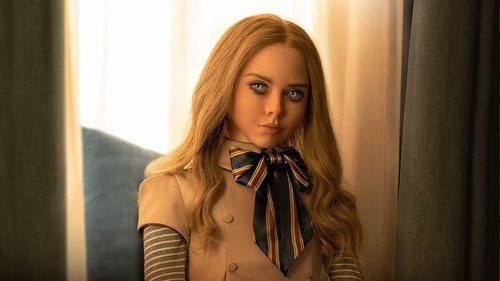 Writer Akela Cooper said the original body count was much higher with the film being gorier. An unrated version released on the Peacock streaming service on February 24, 2023.
Amie Donald performed any of M3GAN's scenes that called for physical movement the puppet could not do. She also performed all of her own stunt work. Donald received movement coaching from Jed Brophy and Luke Hawker in portraying M3GAN's agility. On set, Donald wore a static silicone M3GAN mask created by Morot FX, and this was later replaced by a CGI version of M3GAN's face to match that of the animatronic.
The film was originally shot as an R-rated (by the MPAA - other countries use different classification systems) movie until the producers noticed while editing that it was close enough to PG-13. They re-shot certain scenes to tone down the violence and believe that it became more effective than actually seeing the violence on screen. Jason Blum cited Drag Me to Hell (2009) as a good MPAA PG-13 horror film that was effective.
Lydia was originally killed by M3GAN during her rampage at Funki Toys, as she had upset Cady by making her cry during a therapy session. When the film was recut to PG-13, her death scene was removed from the final cut and she ultimately survives, though her sudden disappearance from the film is never explained.
The song Megan plays on the piano is "Toy Soldiers," a 1988 hit for Martika.
Adrien Morot and Kathy Tse of Morot FX Studio created an animatronic puppet version of M3GAN that was used for dialogue and close-ups. There was also a second animatronic used for certain scenes, as well as a posable stunt version of M3GAN that wasn't puppeteered. The animatronic M3GAN was puppeteered via a variety of techniques, which included radio-controlled facial expressions performed by Adrien and Kathy in tandem, automated lip-sync for the dialogue (temp tracks were provided during filming by New Zealand actress Kimberley Crossman) and a puppeteer physically moving M3GAN's head and body.
M3GAN's voice is modelled, in part, from another famous artificial intelligence-gone-rogue, GLaDOS, from Portal (2007). This is most noticeable during scenes when M3GAN's voice is auto-tuned in order to sound 'glitchy'.
Actors dressed as M3gan showed up to the Los Angeles Rams/Los Angeles Chargers NFL game on Sunday January 1, 2023 to promote the film. They performed a dance routine midfield during halftime.
On a budget of $12 million, principal photography began in June 2021 taking place in Los Angeles, California, and Auckland, New Zealand. The suburbs of Auckland were utilized to lend the film a "Denver, Colorado feel." Filming was completed by mid-August right before a COVID-19 lockdown occurred in New Zealand. The film underwent reshoots in post-production in order to secure a PG-13 rating from the Motion Picture Association, after the original cut was deemed too violent.
Several sequences make references and homages to Child's Play (1988). Several of the focus shots on Cady are inspired by frames of Andy in some scenes from Child's Play. Even the battle between Gemma and M3GAN is inspired by the final climax of Child's Play where Karen Barclay confronts Chucky.
The idea for the film began when James Wan's Atomic Monster Productions was brainstorming story ideas and chose one about a killer doll. Although the Wan produced film Annabelle (2014) is about a killer doll, he said, "Pretty much the concept is about embracing technology too much and relying too much on it. And what happens when technology runs amok. It's a commentary on the world we live in and it feels relevant." Jason Blum stated that the film would have black comedy elements which is one reason Gerard Johnstone was chosen to direct, saying "We needed someone who can do the thrills and set pieces, but who also has a cheeky approach." Wan admired Johnstone's film Housebound (2014) because of his ability to balance the horror and comedy elements by creating a tone that is both frightening and humorous, and this sensibility was essential for M3GAN.
In post-production, Amie Donald's physical performance as M3GAN was enhanced by digital visual effects by New Zealand-based effects studio Weta FX. Speaking about the design of M3GAN, Gerard Johnstone stated that he "looked to screen icons from the '50s like Audrey Hepburn, Grace Kelly and Kim Novak for inspiration. But I wanted some '70s naturalism to counteract her synthetic nature, so the hair is one hundred percent Peggy Lipton.
Allison Williams revealed there's a certain unrated moment that makes her sick to her stomach. Williams said, "The unrated version is a lot of fun, if you have the stomach for it." When asked if there was a specific scene that makes her squirm, she replied, "Oh, my God. It should be when a child perishes, but at one point, someone's face loses a fight with a pressure washer and it starts to peel off. Even though I know how it works behind the scenes and I watched all the tests they did with the special effects makeup, I still get sick to my stomach when I see it. It just grosses me out. I don't do well with gore in general, so that moment is particularly gnarly to me."
M3GAN drops to all fours to chase Brandon down, likely because of how replicating bipedal movement at high speed is still a problem for real world robotics scientists.
A technician uses a pen to track M3GAN's eye movement. The way the scene is presented through M3GAN's POV is very similar to the montage scene where Officer Murphy is reconstructed in RoboCop (1987).
Once the first trailer went viral on Tik Tok with teenagers, Universal Studios had the movie retooled to appeal to a younger audience.
Kurt had been stealing secrets from his company, and was likely the reason why Funki's rivals were able to produce cheaper knock-offs of their products. He had succeeded in copying M3GAN's data files. It's very likely he has already sold those files to another company (or even multiple) which means there's a whole legion of M3GAN duplicate dolls being made. Then, at the end of the film, Elsie (the digital home assistant) turns and looks out the door, indicating M3GAN may have uploaded her programming to the Internet. Both of these things leave the door wide open for a sequel.
M3GAN stands for "Model 3 Generative ANdroid."
Kimberley Crossman voiced M3GAN during production and it wasn't until later Jenna Davis' voice was added. However, during the film, Crossman's voice could still have been used, especially for the scenes where M3GAN got angry and used profanity towards Gemma.
At the time of its release, this was one of the first films within the previous 45 years to be released theatrically on the first Friday in January and obtain a Certified Fresh rating on Rotten Tomatoes. This is very rare, as most films released in this particular timeframe are usually panned by critics.
Body count- 6 humans, 1 dog and 1 robot
M3GAN making plans that work short-term but fall apart later, such as murdering Brandon or planning to render Gemma a quadriplegic, reflect that she's functionally a child who's still learning. While she's incredibly intelligent, Gemma provided her functionally zero support or direction and just expected her to figure things out on her own.
In the trailer, Megan tells Brandon, "You should probably run." But in the feature itself. she says, "This is the part where you run."
While Gemma is going over the pitch presentation for M3GAN, she states that it uses an A17 Bionic processor. This is a naming convention used by Apple for its mobile processors, implying that there is a collaboration with Apple to provide processors for the robot.
In another callback to the game Portal 2 (2011), M3gan, whose "glitchy" voice is inspired and nearly similar to the rogue A.I. GLaDOS, tells Brandon "This is the part where you run". GLaDOS tells the protagonist something similar in Chapters 9 of the game, where she says: "This is the part where he kills you".
Genre
Horror,Sci-Fi,Thriller
Cast