Strange World London Film Premiere 2022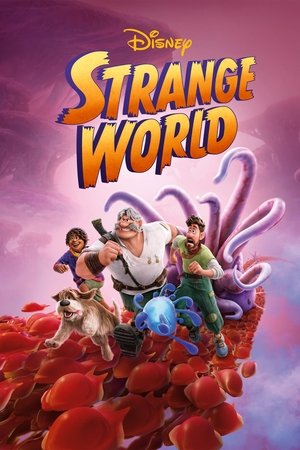 The legendary Clades are a family of explorers whose differences threaten to topple their latest and most crucial mission.
Dont miss the chance to get best Deals from Amazon
Strange World London Premieres UK PREMIERE
Status:

Confirmed

Date:November 17, 2022
Location: Cineworld Leicester Square, London
Attended by:

Jake Gyllenhaal (Searcher Clade), Jaboukie Young-White (Ethan Clade) & Gabrielle Union (Meridian Clade), Don Hall (Director), Qui Nguyen (Co-Director) & Roy Conli (Producer)

Release in Cinemas: 2022-11-23
Runtime:

102 minutes

directors:Don Hall
directors:Qui Nguyen
Planning to attend the film premiere? Find more information regarding tickets, wristbands the times usually the premieres are taking place at London Film Premieres
The font style of the film's title is inspired by the Indiana Jones franchise.
This is the first film to use the Disney 100 logo to celebrate on Walt Disney Company 100th anniversary in 2023. Orginally, Hocus Pocus 2 and Disenchanted were supposed to debut using the Disney 100 but they were switched to the 2006/2011 logo.
Dennis Quaid and Jake Gyllenhaal previously played father and son in The Day After Tomorrow (2004).
"Strange Worlds" was the name of two 1950s American science-fiction comics. One was by Avon Comics, the other was by Atlas Comics (the predecessor to Marvel Comics, which Disney owns).
The first Disney animated film to receive a "B" grade on CinemaScore from audiences, the lowest for any animated Disney feature.
Originally called Searcher Clade.
Visuals have some parallels to CS Lewis' sci-fi, "Out of the Silent Planet".
Walt Disney Animation Studios' 61st feature film.
The second Walt Disney Animation Studios film to be rated PG for action/peril and some thematic elements by the MPA, after Frozen II (2019).
Lucy Liu's first theatrically released animated film outside the Kung Fu Panda franchise.
The fifth Disney animated film of the 2020s to be produced in a 2.39:1 aspect ratio after Onward (2020), Soul (2020), Raya and the Last Dragon (2021) and Lightyear (2022).
Jake Gyllenhaal's second animated film, after Spirit Untamed (2021).
Dennis Quaid's first animated film since Battle for Terra (2007) 15 years prior.
Lorne Balfe was intially supposed to score the film but they replaced by Henry Jackman.
There is a scene where Jaeger teaches Searcher baseball. Dennis Quaid previously played pitcher Jim Morris in Disney's The Rookie (2002).
The second Walt Disney Animation Studios film to be released on November 23rd, after Moana (2016).
The world existing on the back of a turtle is an ancient concept, mythological belief that existed in both American and Asian cultures.
This is the first film from Walt Disney Animation Studios since Zootopia (2016) to not have a post credits scene after all the end credits have rolled.
Alan Tudyk's character Duffle dies in an almost identical manner as his character Wash in Serenity (2005)
Pando is an inter-connected organism, taking its name from Pando, the colony of aspen in Utah.
The second movie Dennis Quaid has starred in about traveling inside a living organism. The first being 1987's "Innerspace".
Where was Strange World filmed?
Strange World was set around this are the locations:
Walt Disney Animation Studios - 2100 Riverside Drive, Burbank, California, USA
Walt Disney Feature Animation - 500 S. Buena Vista Street, Burbank, California, USA
Genre
Animation,Action,Adventure
Cast