Thanksgiving London film premiere 2023
Thanksgiving London Premieres null
Status:

Not information yet

Date: Not information yet
Location: Not information yet
Release in Cinemas: 2023-11-17
Runtime:

107 minutes

directors: Eli Roth
Planning to attend the film premiere? Find more information regarding tickets, wristbands the times usually the premieres are taking place at London Film Premieres
If you're someone who loves to personalize your devices with stunning visuals, you simply cannot miss out on the best wallpapers available. Check out Our collection of 4K and HD wallpapers in full colour and high definition Click on the Image below to explore our extensive collection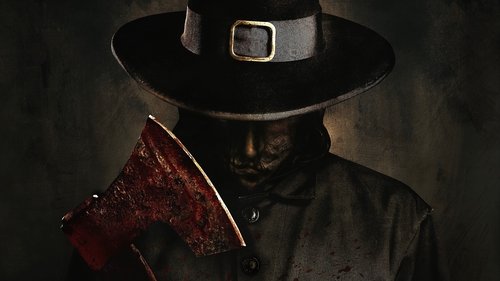 Watch Thanksgiving Trailer
Based on the mock-trailer from Grindhouse (2007). Eli Roth directed the Thanksgiving trailer to be shown between the films Planet Terror and Death Proof when shown as a double feature.
Based on the film trailer, it seems that the infamous trampoline scene from the mock trailer (2007) will be featured in the film.
The film much like the fake trailer was co-written by writer and director Eli Roth and stuntman Jeff Rendell, who in the fake trailer played the killer known as The Pilgrim. Roth also appeared in the trailer as one of The Pilgrim's victims during a sex scene who gets decapitated.
Thanksgiving (2023) is the third of the five fake trailers to get the full movie treatment, with Machete (2010) being the first, and Hobo With a Shotgun (2011) being the second. The two that remain are Don't (a trailer based on the European horror movies that included Don't in their title - of which there are quite a few) and Werewolf Women Of The SS, based on the Naziploitation movie genre. The latter, directed by Rob Zombie, is believed to have nearly enough footage for a full-length movie.
The films working title was "Cavern"
This is Eli Roth & Rick Hoffman's first collaboration since Hostel (2005).
In an interview with Total Film Magazine, filmmaker Eli Roth has said this film isn't meant to be the film that was advertised in Grindhouse. "We said, 'Let's pretend Thanksgiving was a movie from 1980 that was so offensive that every print was destroyed. All the scripts were burned. The director disappeared. The crew members changed their names. One person saved the trailer and uploaded it to the darkest corners of 4chan, and now it's made it out. So this is a 2023 reboot.' Once we said that, it freed us up."
Unlike the fake trailer which was filmed in Prague in 2006, this film was shot in Massachusetts on location.
Genre
Horror,Mystery,Thriller
Cast