The Menu London Film Premiere 2022
Expecting nothing less than the best of everything haute cuisine has to offer, a group of ultra-wealthy gastronomes with a demanding palate arrive at the Hawthorn: an exclusive culinary temple run by highly regarded gourmet chef Julian Slowik. And prepared for an exquisite multiple-course meal and the experience of a lifetime, obsessive epicurean Tyler and his unimpressed plus-one Margot enter the private minimalist restaurant. At last, the long wait is over. However, no one knows that the cryptic genius in the kitchen has big plans for tonight. After all, the imperious culinary artist has been stretching the boundaries of taste and fine dining for decades. Now, the host can finally unveil his magnum opus. But is the blasé clientele ready for Julian's creative madness?
A young couple travels to a remote island to eat at an exclusive restaurant where the chef has prepared a lavish menu, with some shocking surprises.
The Menu London Premieres The Menu
Status:

Confirmed

Date:November 9, 2022
Location: BFI Southbank, London
Attended by:

Anya Taylor-Joy, Nicholas Hoult, Mark Mylod (Director), Betsy Koch (Producer)

Release in Cinemas: 2022-11-18
Runtime:

107 minutes

directors:Mark Mylod
Planning to attend the film premiere? Find more information regarding tickets, wristbands the times usually the premieres are taking place at London Film Premieres
If you're someone who loves to personalize your devices with stunning visuals, you simply cannot miss out on the best wallpapers available. Check out Our collection of 4K and HD wallpapers in full colour and high definition Click on the Image below to explore our extensive collection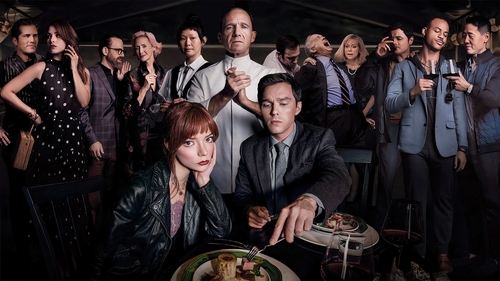 Screenwriter Will Tracy came up with the idea of the story while on his honeymoon in Bergen, Norway, when he took a boat to a fancy restaurant (Cornelius Sjømatrestaurant) on a nearby private island and realized they were stuck (or trapped) on the island until the meal was done. There are numerous references to restaurant Noma (Copenhagen) in The Menu, starting from the location, idea, concept, and ending with the menu itself.
Actress Aimee Carrero revealed that director Mark Mylod offered each of the actors one "freebie" take after securing a scripted take, in which he encouraged the actors to improvise material, which is also how Slowik's "Taco Tuesday" line ended up in the final cut.
The entire kitchen team were trained to actually create the dishes broken down station by station, so that if at any time you look at them, they're all doing the correct things they should be doing for that dish were it real life and not a movie.
John Leguizamo's character is officially called George Díaz, but he is simply credited as "Movie Star." Leguizamo based his character of a washed-up action star on Steven Seagal, whom he called a "horrible human" due to a particularly bad experience while working with Seagal on Executive Decision (1996). The multiple references to Diaz playing a cook in one of his movies may be a nod to Under Siege (1992), where Seagal also played a cook.
The lavish 'food' layouts were prepared by renowned French chef Dominique Crenn, the only female chef in the United States to attain three Michelin stars for her restaurant Atelier Crenn in San Francisco (as of 2016). Though many of the cast and crew were often tempted to taste the delicacies between takes, they had to be reminded that the food items were predominantly props, and thus inedible.
The s'mores course is inspired by the 3 Michelin Starred restaurant Alinea's final dessert course, where chocolate and confectionery are "painted" directly on the table as a mural.
The sommelier's (wine steward's) accent starts French and becomes more and more American with every serving.
In 2019, Emma Stone was attached to play the lead role with Alexander Payne directing. In 2021, Anya Taylor-Joy replaced Stone and Mark Mylod replaced Payne.
In a November 2022 New York Times article on the closing of The Willows Inn on Lummi Island, Washington State, Julia Moskin reported that the restaurant (and its "numerous allegations of sexual harassment and lawsuits claiming wage theft") were among the inspirations for the restaurant depicted in this movie. In an earlier article titled "'The Menu' Serves Fine Dining on a Skewer," Moskin listed other restaurants that were among the film's inspirations as well: "Hawthorn, the fictional restaurant, is a mash-up of haute-rustic destinations like Noma in Copenhagen; Blue Hill at Stone Barns, north of New York City; Mugaritz in the Basque Country; the Willows in the Pacific Northwest; and the chef Francis Mallman's private island off the coast of Patagonia. These restaurants, adored by critics and awards panels, and visited mainly by wealthy gastro-tourists, are places where - according to their own literature - chefs are not cooks but 'storytellers' about 'time and place,' who are not merely feeding people but 'weaving a tale of senses, gestures and emotions.'"
Julian's guest books end with 2019, he doesn't have any for the next three years. It makes sense that he stopped having guests during the pandemic, and it is hinted he started to invite guests himself afterwards, rather than taking reservations.
Several of the beach shots were filmed at Driftwood Beach on Jekyll Island, Georgia, USA.
Chef Slowik calls Richard a "donkey," a nod to Gordon Ramsay's use of the insult.
From the very beginning, Margot shows that she has a true appreciation for food that the wealthier clients have lost in the spectacle. She mentions she enjoys just a simple oyster instead of oysters with all the show, showing that her palette isn't the issue, the loveless over the top food is.
Food consultant and restauranteuse Dominique Crenn was so impressed with Hong Chau's dedication and technique, she offered her a job in one of her restaurants.
When eating the first course, Margot sarcastically pretends to "understand" Slowik's intellectual process behind creating the dishes. As the film progresses, it becomes apparent that Margot is the only one who truly understands where Slowik's dissatisfaction originates.
In the Taco Tuesday course, the chicken thighs are served on a wound up telephone cord like the one Slowik's father tried to strangle his mother with.
The cast spent a week in intensive rehearsals before filming commenced. Covid protocols meant that they effectively formed a tight bubble that ended up playing well on screen.
The original script had a scene where the male diners had to eat out of dog bowls, naked from the waist down. This was discarded because of its similarity to Pier Paolo Pasolini's notorious, Salò, or the 120 Days of Sodom (1975).
Filming began on September 3, 2021, in Savannah, Georgia, USA, with cinematographer Peter Deming. Filming included the Jekyll Island shore.
The Menu premiered at the Toronto International Film Festival on September 10, 2022, and also made its U.S. premiere at Fantastic Fest that month. It was released November 18, 2022, in the United States in 3,211 theaters, the widest release in Searchlight's history.
Another food item lifted from the real world was a goodie bag for restaurant guests to take home that contained granola -- a staple at Eleven Madison Park, with the chef Daniel Humm.
The film also used restaurant layouts and locations as inspiration. Chef Magnus Nilsson's Faviken is famous for sourcing its own ingredients, including catching its own fish -- something we see in the opening scenes of the movie. There's also a meat smokehouse in the movie, which is another nod to Nilsson's restaurant.
The movie utilized Dominique Crenn, the chef behind San Francisco's Atelier Crenn, as a consultant. Fiennes even picked up some of her mannerisms for Slowik. For example, Crenn is known for creating menus in the form of poems -- something Slowik does in the movie.
This is Mark Mylod's first theatrical fllm since What's Your Number? (2011) 12 years previously. Mylod has helmed episodes of some of the biggest TV hits in the intervening years, like The Affair (2014), Game of Thrones (2011) and Succession (2018).
As the majority of the film is largely set in just one room, one of Mark Mylod's chief inspirations was Bong Joon Ho's Parasite (2019).
Director Mark Mylod has admitted in interviews that, being British, he prefers fish and chips to any of the creations featured in the film.
Slowik's restaurant in the movie is located on an isolated island, only accessible by boat. This is a reference to Willows Inn, run by chef Blaine Wetzel. Willows Inn was located on the island of Lummi and is only reachable by ferry.
The cast includes three Oscar nominees: Ralph Fiennes, Janet McTeer and Hong Chau.
The name Margot is a French diminutive form of Marguerite (hence the pronunciation "Mahr-Go" and not "Mahr-Gut") and means a "pearl". Margot shows her appreciation for oysters, which can "create" pearls out of any foreign objects or "obstacles".
Margot never tells how her name is spelled. Margaux is an alternate spelling and it comes from the wine made in the French village of the same name.
Chef states he should have stabbed his father in the throat instead of the thigh; it happens (rather accidentally) to a character later in the movie.
The PACO jet turns useful in Margot's altercation with Elsa.
In the beginning of the film the customers are led to the restaurant by Elsa and a few goats. A Judas Goat is a goat used to keep cattle and other livestock calm while being led onto trucks and into slaughterhouses. This is a hint that the diners are cattle being led to the slaughter.
A newspaper article in the Chef's room shows that he once worked at a restaurant called Tantalus. Tantalus is the name of a character in a Greek myth. He invited the gods to his home for dinner but tricked them into eating a stew made from the meat of his own son whom he had murdered and dismembered in order to test their omniscience. When the gods realized what he had done, they cursed Tantalus to stand in a shallow pool of water under a fruit tree; anytime he would raise his hand for the fruit the tree's branches would rise beyond his reach, and anytime he would bend down to drink the water woud recede. Much the same way, the Chef has served the elite (the gods) and sacrificed his dream (his son), and now all food and drink is meaningless to him.
Much of Margot and Tyler's early conversations take on an entirely different light when it's revealed that they are not a couple, and Margot is an escort he hired. From Margot cheerfully commenting that Tyler is paying (not just for the meal, as originally implied), to Tyler lamenting that he hadn't spent time with women like Margot before, their dialogue is peppered with double-meanings and foreshadowing.
The script features an alternate ending where a crew of firefighters and investigators walk through the burnt wreckage of the night and behind a sealed fireproof door, find Slowik's smiling severed head on a platter and his severed hands holding up the titular menu.
The role of the "Movie Star" was originally written for Daniel Radcliffe, and the oft maligned movie that was referenced throughout was Victor Frankenstein (2015). When John Leguizamo was cast instead, the movie was changed to "Calling Doctor Sunshine."
The seven deadly sins are covered by the six tables, plus staff: Greed - Soren, Dave, and Bryce, who embezzled; Gluttony - Tyler, who's willing to die for food; Lust - Richard, who cheated on his wife; Envy - George, who's a washed-up name-dropping actor; Pride - Lillian and Ted, who believe the dinner is just for them; Sloth - Julian's mother, who did nothing to stop her husband's abuse; Wrath - Julian and the other chefs, who murder everyone.
The reveal that Margot is actually a prostitute has an extra layer to it. She's not just a prostitute, but a high-end escort, which is likely why Tyler hired her for a non-sexual activity. Many escorts offer services like simply going on dates, or talking. And later it's revealed that the wealthy old man that clearly knows he hired her, essentially confirming that she has a generally wealthy clientele. This makes Margot even more similar to Julian, as like him, she has become very successful with her career, but no longer enjoys it precisely because of how different wealthier clients are. Also adds layers to her final request of Julian, to make her a cheeseburger. The job of a prostitute is to not only indulge in the client's fantasies, but pretend to enthusiastically enjoy them and raise their confidence. All Julian wanted to do was flip one last burger, something that brought him infinitely more joy than eating a cheeseburger would bring to Margot. Her request could be seen as servicing him in a non-sexual way, proving that she's a 'giver' who understands her client's desires and is able to indulge them masterfully. This, coupled with her speech about his dinner service being a pretentious affair that no one actually enjoys, could have made Julian realize that he had become a 'taker' a long time ago.
Chef Slowik rails against customers who have the gall to ask him for menu substitutions, even ordering the killing of one person partly because of such requests and screaming "THERE ARE NO SUBSTITUTIONS AT HAWTHORN!!!" while that murder is being carried out. This is one clue as to why the chef departs from the menu to humiliate Tyler and then encourage his suicide: because Tyler, in bringing a different date at the last minute, forced Hawthorne to accept a substitution--Margot / Erin is literally a substitution. This may also be part of the reason she ultimately is allowed to survive.
In the script originally instead of hanging himself after being insulted by Slowik, a broken Tyler/Craig instead took up Slowik's offer to "learn" and spent the rest of the dinner washing dishes, even ignoring Margot's attempt to get him to leave with her.
The chef talks about bread being the food of the common people but refuses to serve it on the bread course. This foreshadows his reason for events, in which he castigates the customers for being tasteless wealthy elites that have ruined his enjoyment of cooking; the 'haves'.
Elsa mentions early on that the chefs never intentionally burn anything unless it's needed for the menu. The film ends with everyone on Hawthorne Island being burned to death as the conclusion of the titular menu.
Tyler's dissonant serenity in the face of all the chaos makes a lot more sense when we learn that he was told ahead of time that no one was getting out of Hawthorne alive.
Anya-Taylor Joy came up with the idea of Margot punching Tyler after finding out that he knew all along that everyone was going to die.
Alongside the appeal to Julian's former passion for cooking, Margot being allowed to live might be seen as a successful case of Loophole Abuse; the various courses are all taken seriously by the restaurant staff and seen through to their end. Margot asking to get her food to go signals that she intends to finish eating it, so her "course" can't be completed if she isn't allowed (literally) to go.
Tyler mentions at the beginning of the film that Margot's smoking would ruin her palate and would thus not properly taste the food to be served at Hawthorn. Later, during the "Man's Folly" course, Lillian, a food critic, is seen smoking cigarettes with Margot. This could show, albeit indirectly, that she has not been a proper food critic as her palate would not be "clean," thus having reviewed other restaurants poorly and unfairly. Another reasoning to her invitation to "The Menu." Of course, Lillian could also have decided to smoke -- possibly for the very first time in this moment -- to try to calm her nerves in the face of increasing certainty that she is about to be murdered.
CHEF'S WELCOME raw local oyster in a mignonette emulsion, with lemon caviar and an oyster leaf . AMUSE BOUCHE compressed and pickled cucumber melon, milk snow, charred lace . THE ISLAND raw diver scallop, pickled local seaweeds and algae . BREADLESS BREAD PLATE no bread, savoury accompaniments . MEMORY house-smoked Bresse chicken thigh al pastor, tortillas made with heirloom masa, green salsa cubes . THE MESS pressure cooked vegetables, roasted fillet, potato confit, beef jus, bone marrow . R.I.P. Jeremy Louden . PALATE CLEANSER wild bergamot and clover tea . MAN'S FOLLY dungeness crab, fermented yogurt whey, dried sea lettuce, umeboshi, kelp . PASSARD EGG (a special bite for the last guest to be caught) egg, crème fraîche, and maple . TYLER'S BULLSHIT undercooked lamb, inedible shallot-leek butter sauce; utter lack of cohesion . SUPPLEMENTAL COURSE: A CHEESEBURGER just a well-made cheeseburger . S'MORE marshmallow, chocolate, graham cracker, customers, staff, restaurant
If you have read about the Jonestown massacre and other cults you would be a little bit suspicious when you see the barracks where the workers live in. Also their day ends at 0200 at night and starts at 0600 in the morning, meaning they get four hours of sleep every night under the best circumstances; sleep deprivation is one of the hallmarks of cult indoctrination. There are no private spaces, even the toilets and the showers are in the open. The lack of sleep, privacy and any form of individualism is perfect condition of mass delusion. It is eventually revealed that Chef Slowik's sous chefs and other staff members are all so fanatically devoted to their leader and what he represents that they are willing to die for (or, finally, with) him. The idea of a group of cult members loyal to their leader even to the point of suicide is unfortunately not unknown in real life. In addition to the aforementioned Jonestown massacre, in which nearly a thousand people (including many children) were poisoned by cult leader Jim Jones before he committed suicide, there were the Heavens Gate suicides, in which 38 followers of Marshall Applewhite and Applewhite himself killed themselves because he had convinced them that their consciousnesses would be transported aboard a UFO via the Halle-Bopp comet.
The radio in the cabin that was used to call the "Coast Guard" at first glance appears to be just a prop. But taking a closer look reveals that it's a CB radio, not a VHF Radio, that is set to channel 16. Channel 16 is the correct Marine channel to call for help, but an unused channel in CB. Also, given the unreliability of Citizens Band and the limited transmitting range (5 miles), the Coast Guard doesn't even monitor that band nor is it likely to be picked up by authorities on the mainland.
Tyler desperately wants to get the approval of Julian yet risks his ire by taking photos of the food in spite of Julian's express prohibition. But it's later revealed that Tyler knows he's going to be killed at the end of the meal, so he should know that he's never going to be able to show those photos to anyone or even look at them again. Tyler is just that delusional.
When being served bread accompaniments without the bread, Margot is the only person to point out that Slowik is insulting his guests, rather than marveling about his ingenious ideas. Not only she's right, but the ability to actually see what's going on and act accordingly, rather than following the beat routine everyone else is so used to is what ultimately saves her skin.
There is an exact copy of the kitchen/dining room the guests are served at inside Slowik's cabin, showing how his life has been consumed by the fine dining industry.
There are 12 dining guests, just like apostles in the Last Supper.
The "Coast Guard" mentioning that he loved George's poorly received film that Julian specifically despises is an early giveaway that he's just another part of the menu. The fact that he's alone and his shirt isn't regulation are also tells.
Slowik states that each guest should think of themselves as "Ingredients in a Degustationnote Concept." Later on, they all become part of the ingredients in the final course.
The movie's digital release came just a few days before Noma, an iconic fine dining restaurant in Copenhagen (Denmark) whose traits (locally sourced ingredients, an exclusive clientele, and an aura of rigidity and formality) likely inspired or at least parallel Hawthorne, announced that it would close down. A linked article incidentally mentioned criticisms of Noma for mistreating and underpaying its workers, much like the oppressive work environment of Hawthorne's kitchen, although this problem is a pervasive one throughout the food industry. Some even claim that the movie's eerie similarities with reality may have been the final straw for the controversy-plagued Noma. This makes the finale, where the restaurant and everyone in it is destroyed, a slightly uncomfortable parallel.
When Margot orders her cheeseburger with American cheese, Chef Slowik mentions that American cheese is the best for a cheeseburger because it melts without splitting. This may be another comical nod to an ongoing controversy, since American cheese is often highly processed, and many feel that it is therefore inferior to more naturally produced cheeses. However, in light of the 'broken emulsion' that occurred earlier in the movie (where one of the sauces on the breadless bread plate had separated into water and oil), a heavily processed cheese may be more preferable, simply because there is less risk of splitting.
Lillian criticizes the "breadless bread plate" for containing a "broken" emulsion. An emulsion is a mixture of immiscible substances; in cookery, it usually means oil and water with an emulsifier, a substance that allows them to mix, such as egg yolk. A broken emulsion is one in which the oil and water have separated again. It's possible that Slowik deliberately served it to Lillian broken so as to hint to the separation between haves and have-nots that would come later in the evening.
In the film, Margot is revealed to be an escort named Erin, standing in for Tyler's ex-girlfriend. In the script, Margot and Tyler (there named Craig) really are a couple, and a married one at that.
During the Man's Folly course, the sous-chef stabs Slowik with kitchen shears, the same way Slowik stabbed his father when he was a child.
The cutting off of Richard's left ring finger prefigures that he had been unfaithful to his wife.
Where was The Menu filmed?
The Menu was set around this are the locations:
Savannah, Georgia, USA
Georgia, USA
Jekyll Island, Georgia, USA
Tybee Island, Georgia, USA
Genre
Comedy,Horror,Thriller
Cast