Whats Love Got to Do with It? London Film Premiere 2023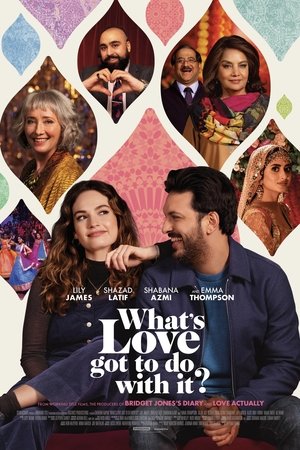 A cross-cultural romantic comedy.
Dont miss the chance to get best Deals from Amazon
Whats Love Got to Do with It? London Premieres UK PREMIERE
Status:

Confirmed

Date:February 13, 2023
Location: Odeon Luxe, Leicester Square, London
Attended by:

Lily James (Zoe), Shazad Latif (Kazim), Emma Thompson (Cath), Sajal Aly (Maymouna), Asim Chaudhry (Mo The Matchmaker), Jeff Mirza (Zahid), Mim Shaikh (Farooq), Oliver Chris (James) & Shekhar Kapur (Director), Jemima Khan (Writer & Producer), Nitin Sawhney (Composer), Naughty Boy (Soundtrack)

Release in Cinemas: 2023
Runtime:

108 minutes

directors:Shekhar Kapur
Planning to attend the film premiere? Find more information regarding tickets, wristbands the times usually the premieres are taking place at London Film Premieres
Whats Love Got to Do with It? Trailer
This movie is about a white British woman who falls in love with a South Asian man. The movie's screenwriter, Jemima Goldsmith Khan, is a white British woman who, in the mid-1990s, fell in love with and married a South Asian man--Imran Khan Niazi, the cricket star and (from 2018 until 2022) the prime minister of Pakistan. Imran and Jemima were married from 1995 to 2004 and have two children together.
Several characters in this movie have the last name Khan, which is also the (married) last name of the screenwriter, Jemima Goldsmith Khan. This is not necessarily a self-reference on the part of Jemima Khan or a reference to the source of her married name, her ex-husband, Imran Khan--because "Khan" is one of the most common last names among Asian Muslims. The name originates from a hereditary or military title denoting a ruler or chief.
In a June 2022 profile of Emma Thompson in the New York Times Magazine, Nicole Sperling reported that Thompson's role in this movie was created specifically for her: "The writer Jemima Khan told Thompson that she had always wanted the actress to be her mother, so she wrote her a role in the upcoming film 'What's Love Got to Do With It?'
Naughty Boy is working on the soundtrack. This marks his first time producing a movie soundtrack.
Cast